Content
Body Butters
Ingredients
1/2 cup Shea Butter
1/2 cup Cocoa Butter or Mango Butter
1/2 cup Coconut Oil
1/2 cup light oil (like almond, jajoba or olive)
Optional: 10-30 drops of essential oils of choice (I use Lavender)
Instructions
1. In a double boiler or glass bowl, combine all ingredients except essential oils.
2. Bring to medium heat and stir constantly until all ingredients are melted.
3. Remove from heat and let cool slightly. Add essential oils if using.
4. Move to fridge and let cool another 1 hour or until starting to harden but still somewhat soft.
5. Use a hand mixer to whip for 10 minutes until fluffy.
6. Return to fridge for 10-15 minutes to set.
7. Store in a glass jar with a lid and use as you would regular lotion or body butter. If your home stays above 75 degrees, it may soften and need to be kept at the fridge, but it will stay whipped at a temperature lower than that.
8. Enjoy!
Ingredients
1 cup Shea Butter
1 cup Coconut Oil
1/2 cup Olive Oil
Instructions
1. In a saucepan on low heat, melt all the ingredients together until well blended.
2. Pour into a medium bowl and place in the refrigerator until hardened (about 20 minutes).
3. Remove the bowl from the fridge and whip the butter mixture with an electric hand mixer until soft and creamy.
4. Place in jar or container and use as needed.
5. Enjoy!
Simple Body Butter Recipe
By Rawamazing.com
Body Washes
.
Ingredients
Instructions
Scoop coconut oil into a microwave safe bowl and heat on medium setting for 30 seconds until melted.
Add honey, essential oils and vitamin E and whisk together.
Add Castile soap slowly, stirring gently to avoid creating suds.
Transfer to glass or plastic bottle.
Shake before each use.
Enjoy!
Super Moisturizing Green Tea Body Wash
By Hello Glow
 Instructions
In a small saucepan, melt the coconut oil and stir in the tea leaves. Let simmer on low for 30 minutes, stirring frequently.
Add the shea butter and stir until just melted. Turn off the heat and let sit for 5 minutes.
When the mixture has cooled slightly, add in the remaining ingredients and whisk everything together.
Pour into a soap dispenser or lidded jar. Shake before each use.
Fun in the Sun
Ingredients
1/2 cup Witch Hazel
2 Tbsp Pure Aloe Vera Gel
10 Drops of Lavender
10 Drops of Peppermint (less for sensitive skin)
Instructions
1. Combine ingredients, mix well.
2. Pour into a bottle and shake well.
3. Apply generously.
4. Enjoy!
Colds, Headaches & Restoring Wellness
Ingredients:
Instructions
1. Place coconut oil and beeswax granules in a small 4 oz. mason jar in a small pan.
2. Add water to the pan until it comes up halfway on the jar.
3. Stir frequently until completely melted.
4. Remove jar from pan and allow to cool a little, stir in essential oils.
5. To set until firm, place in the refrigerator.
6. Store in a glass jar with a lid.
7. Apply homemade vapor rub to chest, around nose, on the back, and on the soles of feet then cover with socks.
DIY Neosporin Salve
By Hello Glow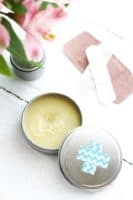 Ingredients:
1/2 cup olive oil
1/2 cup coconut oil
1/3 cup dried lavender
1/3 cup dried calendula
4 tablespoons beeswax pellets
1 tablespoon raw honey
5-10 drops tea tree oil
5-10 drops lavender oil
Directions
Combine the olive and coconut oils in a jar or glass dish over a double boiler. Stir until the coconut oil has melted to combine with the olive oil.
Add in the dried lavender and calendula. Simmer on low for at least 30 minutes.
After simmering for 30 minutes, separate the oil from the herbs by straining it through cheesecloth into a glass dish.
With the oils once again over the double boiler, add in the beeswax and honey. Stir until melted.
Turn off the heat and add your essential oils. Stir to combine.
Pour the contents into a jar with a lid and allow to set. The contents should be solid within 15-20 minutes depending on the depth of the jar you choose.
Oils
Nourishing Oil
0.5 oz of Jojoba, Sweet Almond or Avocado Oil
0.25 oz of Vitamin E Oil
10 – 20 drops of Essential Oil* (for a refreshing or relaxing scent and added antibacterial and antifungal properties)
*EO Ideas
Tea Tree essential oil (you can reduce and add half Lemon essential oil)
Lavender & Lemon essential oils (add a few drops of Tea Tree essential oil)
Clove Bud and Cinnamon Leaf essential oils (add a few drops of Frankincense essential oil)
Combine all ingredients and pour into a glass container to seal and store. Massage a small amount on each fingertip and toe, pay special attention to tips and cuticles. Give a little love to those heals too. Use daily, after you shower and before bed. Keep your container by your bedside to help you remember.
Massage Oil
Do those footsies need a massage? Here's an easy mix.
¼ cup Olive Oil, Jojoba, Sweet Almond or Avocado Oil
10 drops Lavender essential oil
10 drops Rosemary essential oil
10 drops Bergamot essential oil
Combine all ingredients and pour into a glass container to seal and store. Massage away!
Infused Oils
Solar-Infused Lavender Oil Recipe
What you'll need:
A jar
Jojoba oil
Dried lavender flowers
How to make:
Fill a sterilized jar with dried lavender flowers.


Pour jojoba oil into the jar, covering the flowers by at least an inch. Allow herbs a moment to absorb the oil. Add additional oil if needed to assure flowers are covered by an inch of oil.

Stir the oil making sure herbs are completely submerged and there are no air bubbles. Cap the jar tightly. (Some recipes recommend wrapping the jar in a foil in order to help the infusion process and protect the oil.)


Place the jar on a sunny windowsill for around 4-6 weeks, gently turning the jar to mix the oil every day.


Once the oil is ready, strain and store in a jar. Make sure to label with date and ingredients.


Enjoy as a massage or body oil, or use it as the base in your DIY body butter.
Sharing the Love  – of cocktails 😉
Mai Tai Recipe
Ingredients
5 oz rum
.5 oz Orange Curacao
.5 oz orgeat syrup
.5 oz lime juice
.5 oz simple syrup (dissolve 1 part sugar into 1 part hot water)
Lime or mint to garnish (optional)
Directions
Combine all liquid ingredients in your favorite cocktail shaker. Add ice and shake vigorously. Strain and pour the drink into the glass with ice cubes. Add garnish and serve. If using a mint garnish, crush the leaves in the palm of your hands before dropping them into the glass to release the oils.
Mojito Recipe
Ingredients
1 oz (less than 1 shot) fresh lime juice
1 – 2 teaspoons superfine sugar (more sugar, more sweet)
1 cup crushed ice
12 fresh mint leaves, plus 5 small sprigs for garnish
2 – 3 oz (about 2 shots) white rum
1 oz (less than 1 shot) club soda
Directions
In 10-ounce glass (highball), stir together lime juice and sugar until sugar dissolves. Add 1/4 cup crushed ice. Rub mint leaves over rim of glass or in the palms of your hand, then tear leaves in half and add to glass. Gently stir for 15 seconds, then add rum, remaining crushed ice, and club soda. Gently stir for 5 seconds, then tuck mint sprigs into top of glass and insert tall straw.
Margarita Recipe
Ingredients
Ice
3ounces tequila
Juice of 1 whole lime or 1 oz of lime juice
1 ounce simple syrup
1teaspoon triple sec
Salt for rim (optional)
Lime wedge, for garnish
Directions
Fill a cocktail shaker with ice and add tequila, lime juice, simple syrup and triple sec. Shake until mixed and chilled. Pour, with the ice, into a glass (salt rim first if you like). Garnish with a wedge of lime.
Simple Syrup Recipe
Ingredients
Directions
Put the sugar and water in a small saucepan. Cook over low heat, stirring, until the sugar dissolves. Store in a sealed container in the refrigerator for up to 1 month.