Vitamin E Oil
Why use it?
Vitamin E oil is used as a preservative and anti-oxidant skin nourishment in body products. Vitamin E can block free radicals, having an anti-aging effect on the skin. It also helps the skin retain water and stay hydrated. It speeds up regeneration of skin cells to heal skin faster. It's recommended for the treatment of scars, stretch marks, dark circles, sunburn and dry skin, although not everyone in the scientific community is convinced of those latter claims. As with any natural remedy, there are always two sides to the argument regarding effectiveness.
What is it?
Concentrations vary (international units or IUs), within those concentrations there are often additional carrier oils (coconut, avocado, sweet almond or apricot are very good and bring an added health benefits of their own). Carrier oils help thin out vitamin E for application because natural vitamin E is very thick and sticky. The higher the concentration the thicker your oil will be.
There's also the difference of synthetic vitamin E versus vitamin E extracted naturally. Natural Vitamin E is labelled as d-alpha-tocopherol. Synthetic is dl-alpha-tocopherol. Natural Vitamin E is derived from vegetable oils, primarily soybean oil, sunflower and the like. Synthetic vitamin E, dl- alpha tocopherol, also known as Tocopheryl Acetate is chemically made using isophytol and methylhydroquinone (can't even imagine what that means). A study in the Internal Journal of Toxicology found that synthetic vitamin E protected "against ultraviolet radiation-induced skin damage" however the jury is still out on its safety with long-term exposure. Some vitamin E is sold as a combination of natural and synthetic often to make the product more stable for shelf life.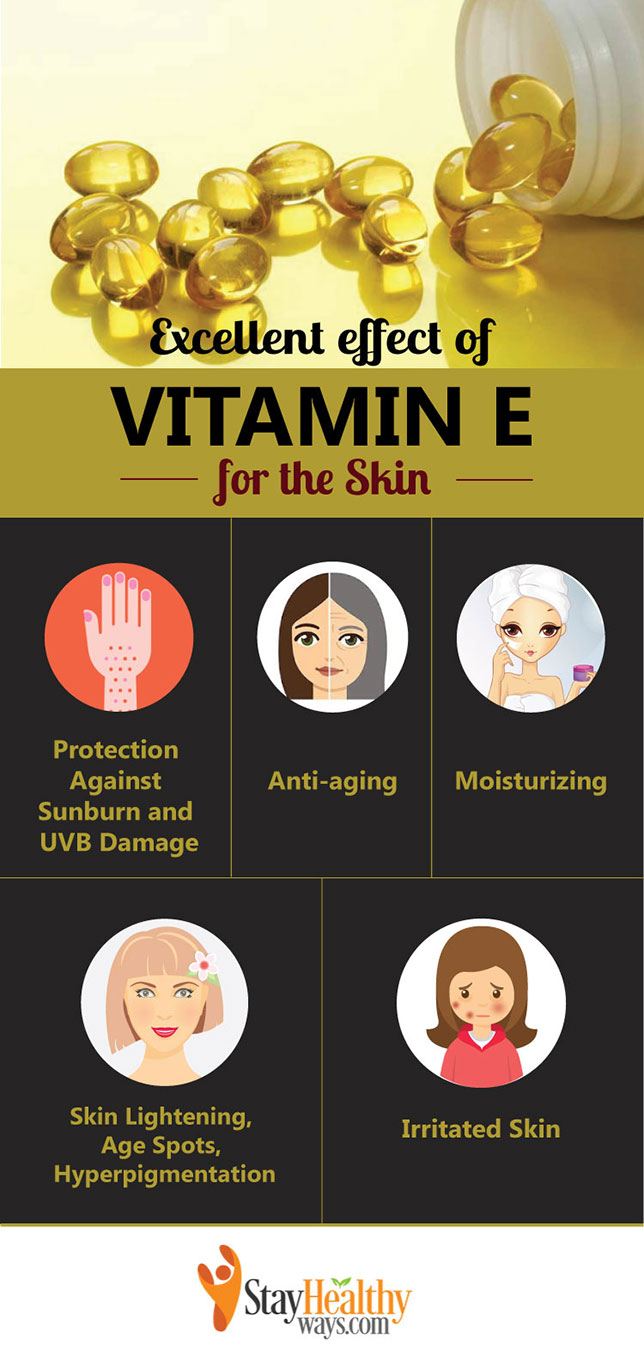 Source:
StayHealthyWays.com
1. Protection Against Sunburn and UVB Damage
Vitamin E is excellent as a protection against sunburn, suntan and skin cancer. It reverses the pigmentation and wrinkles of photo-aging. However, this must be a natural form of Vitamin E. The synthetic versions don't have the same effect.
Results are better if you add Vitamin C, and if the product has both tocopherols and tocotrienols.
2. Anti-aging
Wrinkles mostly come because of exposure to UVB. Gamma tocotrienol is most effective in preventing this damage.
3. Moisturizing
Studies on damaged skin showed that water loss from skin was reduced by a 20% concentration of p-acetate cream.
4. Skin Lightening, Age Spots, Hyperpigmentation
Studies show that gamma and delta tocotrienols decrease the synthesis of melanin. This leads to lightening of the skin and fading of age spots. Vitamin E oil without these two tocotrienols will have no effect on age spots or hyperpigmentation.
5. Irritated Skin
In studies on rats and mice, Vitamin E reduced swelling and skin irritation from allergic contact dermatitis. Tocotrienolssignificantly reduced scratching, skin thickening and levels of histamine.